Cooperatives for collective liberation!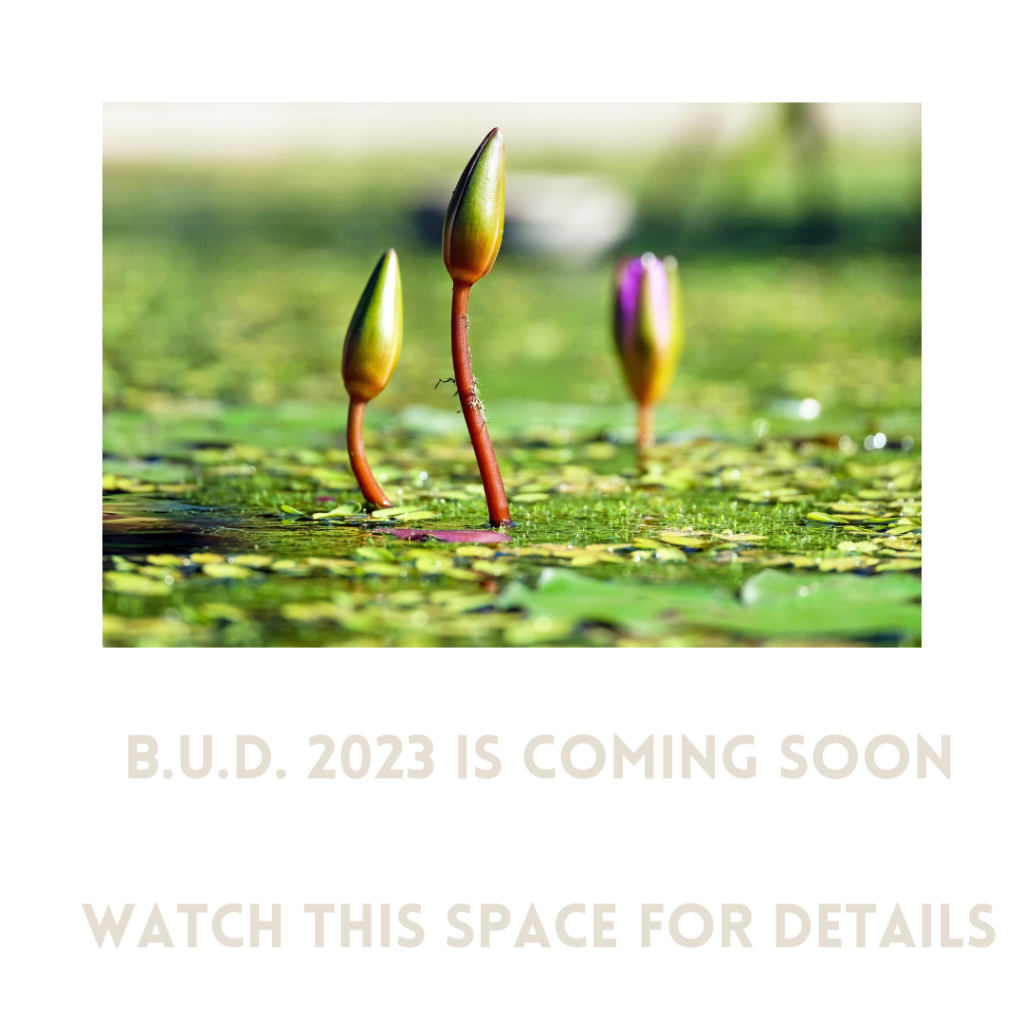 "We are worthy
Not because of what we produce
But because of who we are
We are divine bodies of light and darkness
You are not worthy because of what you offer, not because of what is in your mind, not for the
support you give others, not for what you give at all
We are worthy and are whole just because…
…To everyone that has the courage, the power, the ability to co–create what we want and need
while rooting in what we can't lose and who we are
You are the visionary
You are the hope
You are our ancestors dreams"
– WE ARE WORTHY by Elandria Williams
Registration for Bud 2022 is COMING SOON!
Formerly known as CoFED's Summer Co-op Academy (SCA), the Build, Unlearn, Decolonize (BUD) learning series pivoted into a virtual education intensive due to the COVID-19 pandemic. However, we are ready and returning to the land…in-person…this summer!
BUD is a practice of decolonizing the future from roots that revere the spirit of land and all beings. Our land and food justice movements require unlearning the violence of capitalism and white supremacy while creating safe connection to ourselves and our work.
BUD is designed with love for Black, Latinx, Indigenous, Asian and Pacific Islander youth who are working in co-ops and collectives to grow community health and wealth through food and land.
CoFED is co-dreaming and co-creating liberatory spaces for food and land justice cooperatives to Build, Unlearn, and Decolonize the way we create and sustain our cooperative visions and work across Turtle Island.
If you are an individual or member(s) of a cooperative/collective who is eager to dive deeper into the complexities, intricacies, and beautiful nuances of building a cooperative food system, we would love to Build, Unlearn, and Decolonize with you! BUD will take place in Eastern North Carolina. We will take all necessary precautions related to Covid safety.
¡Nuestro Programa de Educación Cooperativa – Construir, Desaprender, Descolonizar vuelve a ser presencial! En CoFED co-soñamos y co-creamos espacios de liberación para cooperativas de justicia alimentaria y territorial para Construir, Desaprender y Descolonizar la forma en que creamos y mantenemos nuestras visiones y trabajos cooperativos en Turtle Island.
BUD es una práctica de descolonización del futuro a partir de raíces que reverencian el espíritu de la tierra y de todos los seres. Nuestros movimientos de justicia alimentaria y territorial requieren desaprender la violencia del capitalismo y la supremacía blanca al mismo tiempo que se crea una conexión segura con nosotros y nuestro trabajo.
¡Si es una persona particular o miembro(s) de un colectivo/cooperativa que desea profundizar en las complejidades, entresijos y hermosos matices a la hora de construir un sistema alimentario cooperativo, nos encantaría Construir, Desaprender y Descolonizar con usted! BUD tendrá lugar en el este de Carolina del Norte. Tomaremos todas las precauciones necesarias en relación a la seguridad contra el COVID.
As folks who are building co-ops and collectives to transform the food we eat, how we grow it, how we share it & how we give it back to the earth – you deserve to be supported with resources and processes that feel both relevant and liberating. At BUD, we will go beyond cooperative histories and onto practices necessary to create community-led solutions that address issues of food and land sovereignty, sustainability, and collective liberation. We are committed to practicing a community of care that is trauma-informed, centers healing, and inclusive of diverse needs. We'll hold space, build power, and reconnect to the earth and our ancestors.
Como personas que están construyendo cooperativas y colectivos para transformar la comida que comemos, cómo la cultivamos, cómo la compartimos y cómo la devolvemos a la tierra – ustedes merecen que les apoyen con recursos y procesos relevantes y liberadores. En BUD, iremos más allá de la historia de las cooperativas y profundizaremos en las prácticas necesarias para crear soluciones lideradas por las comunidades y abordar temas sobre la soberanía alimentaria y territorial, la sostenibilidad y la liberación colectiva. Estamos comprometidos a lograr una comunidad de cuidados basada en el trauma, que se centra en la sanación y que es inclusiva con las necesidades diversas. Crearemos un espacio, desarrollaremos poder y volveremos a conectar con la tierra y nuestros antepasados.
Here's a snapshot of a day at BUD/A continuación, una muestra de una jornada en BUD:
Registration opening soon!
The learning goals for this experience are intended to help your co-op/collective continue to build, unlearn, and decolonize where you are and where you want to g(r)o(w). Here are some of our goals for BUD 2022:
Building resilience inside and beyond capitalism ~ Harvesting financial, spiritual, emotional, technical wisdom to do so. 

Decolonizing story-telling and communications strategies ~ Too often our suffering is what sells. We will shift the narrative so that our triumph is recognized for what it's worth.

Exploring cooperative journeys ~ Our ancestors are the roots, we will keep budding from their nourishment.

Generating healing, trust-building, and accountability in action ~ We believe in people over profit and that unlearning white supremacist culture in relation to humxn connection is an important step toward liberation.

Being with land ~ The foundation of it all will be at the center of our time together.
El objetivo de aprendizaje de esta experiencia está pensado para ayudar a su cooperativa/colectivo a continuar construyendo, desaprendiendo y descolonizando allí donde se encuentre y donde desee ir/crecer. Algunos de nuestros objetivos para BUD 2022 son:
Desarrollar resiliencia dentro y más allá del capitalismo ~ Cultivar saberes económicos, espirituales, emocionales y técnicos para lograrlo.
Narrativas descolonizadoras y estrategias comunicativas ~ Demasiado a menudo, nuestro sufrimiento es lo que convence. Cambiaremos la narrativa para que nuestro triunfo se reconozca por lo que vale.
Explorar caminos cooperativos ~ Nuestros antepasados son las raíces, seguiremos nutriéndonos de ellos.
Generar sanación, confianza y rendición de cuentas en la práctica ~ Creemos en las personas más que en el dinero y un paso importante hacia la liberación es desaprender la cultura de la supremacía blanca en relación a la conexión humana.
Estar con la tierra ~ Esta es la pieza fundamental del tiempo que pasaremos juntos.
As a BUD participant, you'll join a dynamic cohort of 20 – 30 cooperative and collective teams from across the US (we're open to international communities as well) — and a powerful community of peers. Our beloved alumni belong to many different cooperatives and collectives, from immigrant-owned farms and herbal wellness centers to grocery stores, cafes, and community gardens. We hope you'll take the connections, experiences, and tools you'll gain at BUD back to your roots, wherever your truth and vision lead you. 
Come throw down for liberation with us and register here to attend Build, Unlearn, Decolonize today! Full and partial scholarships are available, and no one will be turned away due to lack of funds.
Como participante en BUD, usted se unirá a un conjunto dinámico de 20 a 30 equipos de cooperativas y colectivos de Estados Unidos y Canadá (también estamos abiertos a comunidades internacionales) — y una potente comunidad de compañeros. Nuestros queridos ex-alumnos pertenecen a muchas cooperativas y colectivos distintos, desde granjas propiedad de migrantes y centros de bienestar a base de plantas hasta tiendas de alimentos, cafeterías y huertos comunitarios. Esperamos que se lleve consigo los contactos, experiencias y herramientas que sacará en BUD de vuelta a sus raíces, donde sea que le lleve su verdad y su visión.
¡Venga a luchar por la liberación con nosotros y presente una solicitud para Construir, Desaprender y Descolonizar hoy! Hay becas parciales y totales disponibles y nadie será rechazado por falta de fondos. 
Is BUD for my co-op dreams?
We are inviting individuals and teams of (max 5) people to register. You should register if you:
Are part of a cooperative or collective food and land justice project;

Are interested in creating a cooperative or collective food and land justice project; 

Can attend the full, week-long program from June 22nd-June 26th;

18 or older (We want to build intergenerational cooperative resilience – little ones are welcome! We will have child care providers as an option. Please contact us for us information on specifics)

Identify as Black, Brown, Indigenous or PoC (person of color, explicitly including folks of African, Latinx, Asian and/or Pacific Islander heritage).
¿BUD sirve para cumplir con mi sueño de una cooperativa?
Invitamos a particulares y equipos de (máximo 5) personas a que presenten una solicitud. Debería presentar una solicitud si:

Forma parte de una cooperativa o colectivo de un proyecto de justicia alimentaria y territorial.

Está interesado en crear un proyecto de una cooperativa o colectivo de justicia alimentaria y territorial.

Podrá asistir al programa completo de una semana del 22 al 26 de junio.

Tiene más de 18 años (Queremos construir resiliencia cooperativa intergeneracional – ¡los pequeños son bienvenidos! Tendremos proveedores de cuidado infantil como una opción. Por favor, contáctenos para conocer información más específica).

Se identifican como personas negras, morenas, indígenas o PoC (personas de color por sus siglas en inglés, explícitamente incluyendo a la gente africana, latina, asiática y/o de las islas del Pacífico).
Cost of Registration & Scholarships
CoFED is committed to making BUD as accessible and equitable as possible. To make BUD affordable for everyone, please pay what you can. The full cost of registration is an estimated $1,200/person and includes: intentional scheduling, an uplifting curriculum built to inspire and inform, loving daily check-ins with your facilitators, decolonized networking, a generative support system, rest-centered building, a toolkit for unlearning various oppressions, Earth-connected place-based work, and so much more! We are open to offering scholarships to support access to BUD. Please reach out to us in the registration form.
Costo del registro y becas
CoFED se compromete a conseguir que BUD sea tan accesible y equitativo como sea posible. Para que BUD sea asequible para todo el mundo, por favor, pague lo que usted pueda. El costo total del registro se estima en 1,200 dólares por persona, lo cual incluye: una programación deliberada, un currículum motivador para inspirar e informar, conversaciones diarias cariñosas con su facilitador, redes de trabajo descolonizadoras, un sistema que genera apoyo, desarrollo enfocado en el descanso, herramientas para desaprender distintas opresiones, lugares de trabajo en conexión con la tierra, ¡y mucho más! Estamos abiertos a ofrecer becas para apoyar el acceso a BUD. Por favor, contáctenos en el formulario de registro.
Email
bud@cofed.org
for more info.

Escriban a
bud@cofed.org
para ver más información.

Wanna hear about BUD from program alum? Read on...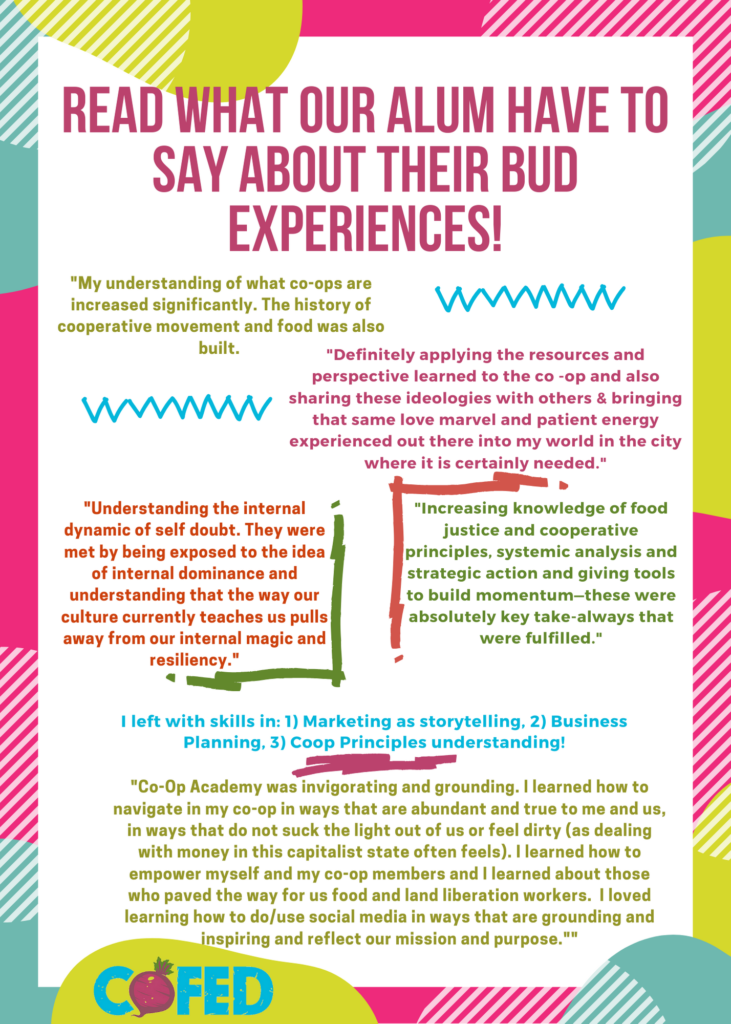 Thank you to our amazing sponsors for providing scholarships over the years!