Just Leader Fellowship are now closed
Thank you for your interest!
We are excited to announce the launch of the Just Leader Fellowship, formerly known as the Racial Justice Fellowship. Applications will be open from May 16th to June 24th, 2022. CoFED's Just Leader Fellowship is a 9-month opportunity for young cooperators of color working to close the racial wealth gap by advancing community ownership of land and the food system.
While developing their project vision, fellows will receive a range of support customized to their un/learning styles. Our ideal applicant is excited their dreams of land and food liberation and is ready to develop their skills to reshape food and land justice in their communities. CoFED is eager to build relationships of support and care well beyond the 9-month duration of this project, we hope you will keep building with us.
We are excited to work with fellows who are leading with love, cooperation and imagination. Fellows will be chosen by a selection committee made up of CoFED staff, board members, and previous Racial Justice Fellows. Over the course of the fellowship, the fellows will receive a $10,800 stipend as well as full scholarship to our cooperative education programs.
To apply for the Just Leader Fellowship, please answer the application questions on Google Forms here and in Spanish here, and provide 2 letters of recommendation. Applications are available in English and Spanish. For access to a Spanish language application please select the Spanish flag at the top right of this website page. Letters of recommendation can be submitted on the application form or via email to admin@cofed.org. Please contact admin@cofed.org if there are any accessibility issues with the application.
Applications will open May 16th until June 24th, 2022. Please apply and share widely with the young, BIPOC food freedom fighters in your network! Contact admin@cofed.org for questions.
More details about the program can be found below.
We encourage you to apply if you:
Are between the ages of 18 and 30 
Identify as Black, Brown, Indigenous or person of color (PoC) – explicitly including folx of African, Latinx, Asian, Arab and/or Pacific Islander heritage
Have been in the food, land, or racial justice movement for at least 2 years
Belong to a co-op, collective, or other organized group that is excited to support your Fellowship project
Live in the U.S. or tribal territories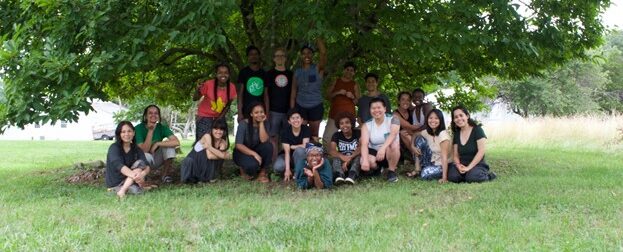 Fellows are expected to:
Be hosted by a supportive co-op or collective for the duration of the fellowship
Have the space and desire to relationship-build with a small national organization
Participate in 2 web meetings per month

1 monthly project check-in
1 monthly all-fellows' meeting

Develop an impactful fellowship project by May 2023
Complete:

9 fellowship progress reports,
18 hours of political education and
1 blog post/ final report detailing the experience

Serve as a thought partner and spokesperson for CoFED
Be in open and consistent communication with the CoFED staff
Model and uphold our core values

Cooperation
Joy
Love
Impact
Accountability
And post-fellowship, participate on the selection committee to choose the next year's fellows
CoFED will offer:

$10,800 stipend
Full scholarship to a cooperative education program hosted by CoFED, including:

Transportation to and from the program (if in person)
All housing, food, and transportation during the program(if in person)

Leadership coaching
(un)Learning and political education
2 hours per month of technical assistance and training in:

Storytelling and communications
Grassroots fundraising
Trauma-informed conflict resolution strategies
Tools for collective accountability and governance

Networking opportunities
Access to CoFED's cooperative info and resources
Application Process & Criteria
Applications open May 16th and are due by June 24th, 2020, 11:59pm PST.
Those chosen for the first round of video interviews will be notified by early July. From there, a small group may be chosen for a second round of interviews. All applicants will be notified of their status by mid July. The two chosen fellows will be asked to sign a fellowship agreement detailing responsibilities.
Applications will be read and chosen by CoFED staff based upon the following selection criteria:
Commitment to ending racism and injustice in the food system
Alignment with CoFED's values, vision, and theory of change
Feasibility to implement the project you are proposing
Potential impact/contribution of proposed project to racial justice and cooperative movements
Track record of transformative leadership
Personal and direct stake in the issues being addressed by the proposed project
To apply, please access the google form here (Spanish version here). Complete each question and submit 2 letters of recommendation to enter an application. Submit your two letters of recommendation on the google form or have them emailed to admin@cofed.org with subject line "Just Leader Fellowship". The letters should be: one from a member of your co-op/organization and another from a community member. We do accept supplemental information (such as resumes, portfolios, or links), but they are certainly not necessary and there is absolutely no penalty for not including them. If you have any questions, please don't hesitate to reach out! 🙂
Through your application, please convey what you stand for, and how you embody your values in your work. All applications will be considered carefully, with some applicants invited to interview. If you are not invited to interview or selected, we will do our best to provide feedback upon request.
May 16th
General applications open
June 24th
Application submission due
July 8th
Interview invitations sent out

July 11th – 22nd

Interviews take place
By July 26th
Fellows acceptance invitations sent out
August 1st

Fellowship Begins

Attend virtual Fellowship Orientation
Launch relationship foundation with CoFED team

August- March

Fellows will:

Begin projects
Attend monthly web meetings
Receive monthly virtual trainings
Receive stipends

March – May

Fellowship Closeout

Fellows:

Finish up fellowship
Work with Coach to prepare post- fellowship project plans
Complete final progress report
Complete exit survey
Explore our previous Fellowship projects! And check out our Fellows' blog posts.