Learn about co-ops for collective liberation!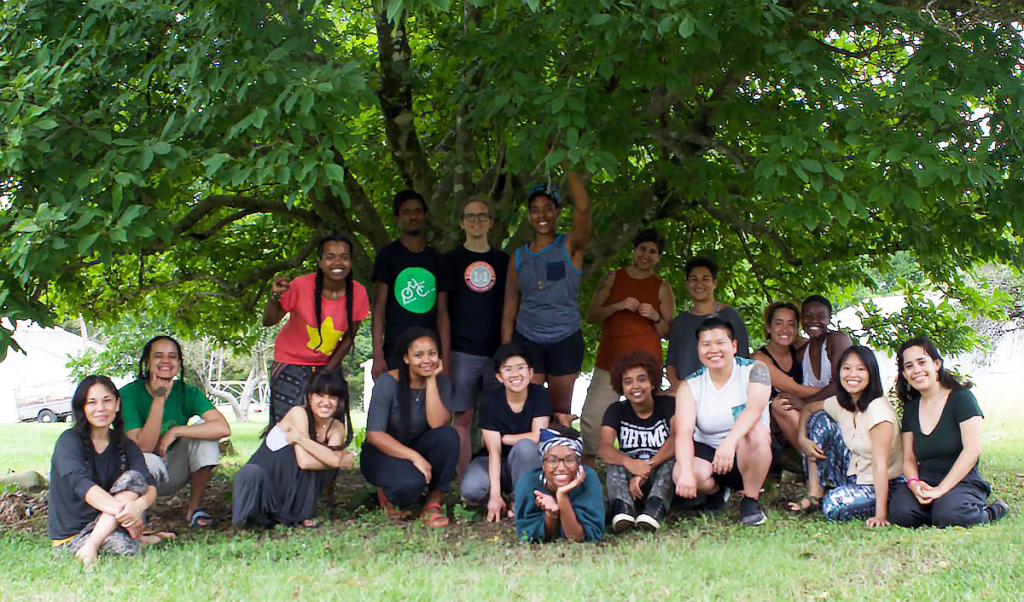 "It is our duty to fight for our freedom. It is our duty to win. We must love each other and support each other. We have nothing to lose but our chains."
-Assata Shakur
BUD will take place from September 14 - October 19, 2020, in virtual space.
APPLICATIONS ARE NOW CLOSED FOR BUD 2020
Formerly known as CoFED's Summer Co-op Academy (SCA), the Build, Unlearn, Decolonize (BUD) learning series is a 5-week virtual education intensive designed with love for Black, Latinx, Indigenous, Asian and Pacific Islander youth who are working in co-ops and collectives to grow community health and wealth through food and land. Cooperative economics have always been vital to our collective survival, especially for Black and Brown folks on this continent and around the world. COVID-19 and nation-wide fed-uprisings illustrate the need for your work to thrive. As folks who are building co-ops and collectives to transform the food we eat, how we grow it, how we share it & how we give it back to the earth – you deserve to be supported with resources and processes that feel both relevant and liberating. At BUD, you'll learn more about the cooperative hxstory, politics, economics and practices necessary to create community-led solutions that address issues of food and land sovereignty, sustainability, and collective liberation. We are committed to practicing a community of care that is trauma-informed, centers healing, and inclusive of diverse needs. We'll hold space, build power, and reconnect to the earth (even virtually) and our ancestors.
BUD will take place from September 14 - October 19, 2020, in virtual space.
Here's a snapshot of one week of BUD:
Time

Monday

Tuesday

Wednesday

Thursday

Friday

9:00 am UTC, 12:00 pm PDT, 2:00 pm CDT, 3:00 pm EDT

Cooperative Principles and the Solidarity Economy (~2-hour session)

Asynchronous (un)learning - watch, listen, connect to learning, the Earth, your self, and each other on your own time

A weekly offering of "co-conspiring hours" by the CoFED Team (our version of office hours)!

Community sharing- apply your BUD sessions to your cooperative work in real-time, share on an online platform
The learning goals for this experience are intended to help your co-op continue to build, unlearn, and decolonize where you are and where you want to g(r)o(w).
Here are some of the goals for BUD 2020:
Building resilience inside and beyond capitalism ~ Harvesting financial, spiritual, emotional, technical wisdom to do so. 
Decolonizing story-telling and communications strategies ~ Too often our suffering is what sells. We will shift the narrative so that our triumph is recognized for what it's worth.
Exploring cooperative and solidarity economic hxstories ~ Our ancestors are the roots, we will keep budding from their nourishment.
Generating healing, trust-building, and accountability in action ~ We believe in people over profit and that unlearning white supremacist culture in relation to humxn connection is an important step toward liberation.
As a BUD participant, you'll join a dynamic cohort of 20 – 30 cooperative and collective teams from across the US (we're open to international communities as well) — and a powerful community of peers. Our beloved alumni belong to many different cooperatives and collectives, from immigrant-owned farms and herbal wellness centers to grocery stores, cafes, and community gardens. Though your experience will be under a new name, the network possibilities in BUD are vast. We hope you'll take the connections, experiences, and tools you'll gain at BUD back to your roots, wherever your truth and vision lead you. 
Come throw down for liberation with us and apply to Build, Unlearn, Decolonize today! Full and partial scholarships are available, and no one will be turned away due to lack of funds.
We accept applications from teams of 2-3 people. You should apply if:
You are part of a cooperative or collective food and land justice project (this project can be in the start-up phase or scale-up mode)
2-3 members of the project can attend the full program from September 14 – October 19, 2020 (5 weeks – max. 3 hours virtually facilitated time per week)
You and your team members are age 30 or under; folks under 18 are able to attend with a waiver
You and your team members identify as Black, Brown, Indigenous or PoC (person of color, explicitly including folks of African, Latinx, Asian and/or Pacific Islander heritage). We strongly encourage Queer, Trans, and working-class cooperators to apply! 
Cost of Registration & Scholarships
CoFED is committed to making BUD as accessible and equitable as possible. To make BUD affordable for everyone, please pay what you can. The full cost of registration is an estimated $3,200/person and includes: intentional scheduling, an uplifting curriculum built to inspire and inform, loving weekly check-ins with your facilitators, decolonized networking, a generative support system, rest-centered building, a toolkit for unlearning various oppressions, Earth-connected place-based work despite virtual gatherings, and so much more! Due to Covid-19 and the economic crisis many of us are facing, we are offering more than 50% off of the registration cost – the cost now is $1,500. Sliding scale registration per person is as follows:
$200 – Annual household income of $40,000 or less
$350 – Annual household income between $40,001 – $60,000
$500 – Annual household income between $60,001 – $80,000
$750 – Annual household income between $80,001 – $100,000
$1,500 – Annual household income of $100,000 or more
If needed, your team has several places to turn to for scholarship and funding:
Funding can be obtained through your host co-op or organization. Consider professional development or programmatic budgets, or funding set aside for technical assistance and organizational development. College students can look to campus funds such as student clubs, sustainability commitments, academic departments' conference and travel budgets, etc. CoFED can help with this.


Try some community fundraising! CoFED believes deeply in community wealth-building, and living in collective abundance. We can help connect you to your local and regional community of aligned cooperatives, cooperative associations, and credit unions. Or you can implement your own fundraising idea! For example, a team in California found financial support from a local grocery cooperative as well as a regional non-profit whose mission is to advance health and food access. Not only did it lead to financial support; it also created new partnerships for their project that they continue to benefit from today. CoFED can also help with this!
APPLICATIONS ARE NOW CLOSED FOR BUD 2020
Wanna hear about BUD from program alum? Read on...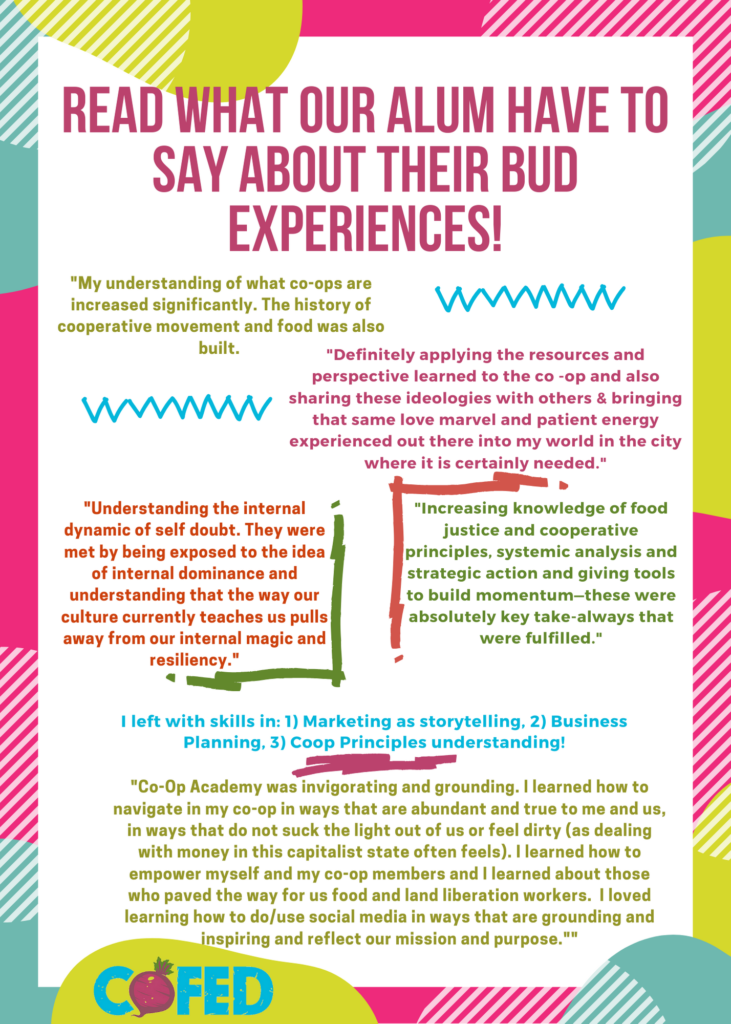 Thank you to our amazing sponsors for providing scholarships over the years!